Friday, September 22nd, 2023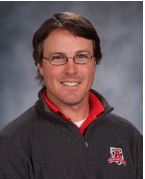 Craig was first a supervisor at the Mullett Center from 2002 to 2004 before starting full time in October of 2014. He has worked in the Ice Arena industry for 29 years with regular employment at Eble Ice Arena, Nagawaukee Ice Arena and The Kettle Moraine Ice Center in West Bend. He is an active member of US Ice Rink Association and has been on the editorial committee for RINK Magazine since 2012 with 15 nationally published articles. In 2003, he was 1 of 3 rink operators in Wisconsin to receive their "Certified Ice Technician" Certification in the inaugural year of the program and reached the "Certified Ice Rink Manager" Certification in 2011. He was Nationally recognized as US Ice Rink Association's Ambassador in 2012. In 2015, Craig was part of the ice install crew for the US Figure Skating 'Skate America' at the UW Panther Arena. In 2018, the Northeast Ice Skating Managers Association invited Craig to be a representative from the Midwest at the NEISMA Rink Summit in Lake Placid, NY. Craig is also an active WIAMA (Wisconsin Ice Arena Management Association) member, serving as the volunteer organization's President in 2010-11 and 2017-18 with a total of 18 years of service on the Board of Directors and currently holds the organizations Social Media Liaison position.
Craig started up the Mullett Center youth floor hockey outreach program where he travels to area schools to help the PE teachers with their floor hockey sections. Craig is also a lead instructor of the Mullett Ice Center's Learn to Skate program, founder of the Eisstock Club of Wisconsin, Director of the Arrowhead HS Intramural Hockey program. He is also a member of the Lake Country Rotary Club where he serves as the AHS Interact Club liaison and holds one of two of the Vocational Board positions.
Craig played youth hockey for Waukesha County Youth Hockey and high school hockey for Kettle Moraine High School. He was able to continue his hockey career playing at the D1-Club level while he attended UW-Whitewater. After graduating with a degree in electronic media and graphic design, he worked for ABC Television out of Madison as a graphic designer. While working in West Bend, Craig was also a Program Director for The Boys and Girls Clubs of Washington County for 6 years. Craig and his wife Jodi live in Hartford and have two 18 year old boys. Alex is pursuing an accounting degree at Benedictine University while playing NCAA D3 lacrosse and Chris is going into the SWCC program in the US Navy.
Check out Craig's nationally published articles in 'RINK Magazine':
2023 "Broomball"
2023 "WIAMA STEM"
2022 "Buzzer Beater"
2022 "Marsh Peg Prep"
2021 "Meat me at the Blue Line"
2020 "In The Trenches"
2019 "Speed Skating 101"
2018 "Seat Heat"
2017 "Time for Ice Out! - Part 1"
2017 "Time for Ice Out! - Part 2"
2016 "Mullett Ice Center Offers Hockey For Everyone"
2016 "Floor Hockey Outreach"
2013 "Feeling A Chill"
2013 "Breaking the Eis"
2012 "A League of Their Own"
2023 Fox 6 features:
Two Segments on 'Real Milwaukee'
Five Segments on 'Out and About'

2016 Craig also had an article on Eisstock published in 'Our Wisconsin' magazine:
"Cool Sport Makes Warm Friendships"
2018 Feature story on Fox 6 about Eisstock:
Eisstock at Wilson ParK (with Craig Petersen)
Journal Sentinel Article about Try Hockey For Free:
2018 Try Hockey For Free
2019 Try Hockey For Free
Craig's WIAMA Board Member Bio
Craig Petersen - Bio 2020
TV commercial for Landmark Credit Union - January 2018
Craig Petersen, CIRM
General Manager
Petersen@arrowheadschools.org
262-369-3601