Monday, February 21st, 2022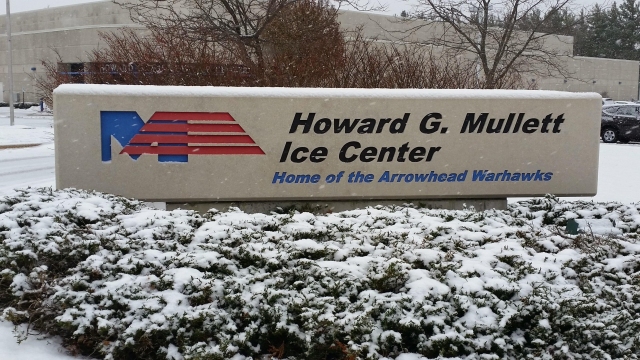 Dedication
The Howard G. Mullett Ice Center became a reality out of a son's devotion to his father in 1998. Donald Mullett of Hartland commissioned the center and donated it to the Arrowhead School District in the name of his late father, Howard.
Howard G. Mullett, past chairman of the Bradley Corporation and lifetime resident of the Hartland/Arrowhead lake area, held the philosophy that athletic competition teaches youth valuable lessons that can be drawn upon throughout life.
May all who use the center carry Howard Mullett's spirit of sportsmanship, fairness and teamwork.
Check out our Facebook page for more pictures and info

Special Features
501(c)(3) non profit organization

1,300 Seating capacity

200' x 85' sheet of ice

Concessions, large lobby and storage areas

39,000 square feet of space

Large Digital sponsor board over the ice

Five spacious locker rooms, including one designated for women

Aluminum Bleachers with overhead infrared heating system

Olympia ice grooming machine powered by compressed natural gas

Electric Zamboni ice edger

Computerized 24/7 building monitoring system to control air quality, air temperature, lighting, chiller package and desiccant dehumidifier

Reverse osmosis water treatment system which allows the ice to freeze at a higher temperature and enhances ice clarity
Users of the Mullett Ice Center include:
· Arrowhead Youth Hockey
· Lake Country Warhawks
· Arrowhead High School Hockey
· Mullett Adult Hockey League
· Elite Skating Academy
· Wisconsin Inspire
· Hockey Factor
· AAA Proactive Hockey
· Team Wisconsin
· AHS Phy Ed Classes
· Public Skaters
· Home School Groups
· Eisstock Club of Wisconsin
Youth programs are available for boys and girls. The ice center may be used for school outings, community skating parties and Scouting events. The ice center also serves as part of the physical education program at Arrowhead School District. The facility is owned by the Arrowhead School District and is operated by the Howard G. Mullett Community Board.
Contact us for more Info!