Friday, January 4th, 2019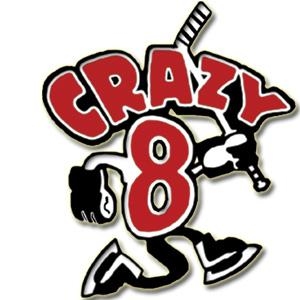 Welcome to the 13th summer of Crazy Eights Hockey Camp LLC!! I am so excited to be coming back to Wisconsin for another summer of camps. This past year has brought some major changes for my family. As many of you know we moved to Pittsburgh, PA in the summer of 2013 for my first D1 job at Robert Morris University. Summer of 2014 brought an opportunity to move back to the Midwest to coach in the WCHA at St. Cloud State University. I gladly accepted and have finally settled down, bought a house, and I am excited to grow and develop the program here with an extraordinary staff. Throughout all of my moves, one major priority for me has been to continue to grow and develop Crazy Eights camp. My dad, sister, Jessie Vetter and I started this camp 11 years ago and I am bound and determined to grow and develop this camp further!
The goal of Crazy Eights is to develop young athletes (7-14 years old) and give them the tools and drive, to develop into college athletes. My personal goal is for these young women to gain positive role models who have succeeded by working hard and battled through tough times. My all female staff has reached their dream of playing college hockey and each of their stories teaches these young athletes that it was not something just handed to them.
Crazy Eights is moving forward by focusing on skill development and power skating. This summer power skating and edge control will be a main focus of every morning session. There will be a specific power skating coach to run each morning session. Skill development will be the second focus in particular, stick handling, puck protection, shooting in any situation, and developing a competitive drive! The end of every day will bring small area games to incorporate these skills into game situations. A specific strength and conditioning coach will run off ice sessions. This is to help the athletes learn that off ice training is just as important if not more important than on ice.
If you have not taken advantage of Crazy Eights Hockey camps please check it out. For those of you that have sent your daughters in the past please consider us again this summer. Lastly, for those of you whose daughters have come through camps and are too old to attend please pass this on to any new hockey families that may be looking for a summer camp.
Thanks for your support and best wishes in the rest of your hockey season!
Sincerely:
Jinelle Siergiej
Please Check out the website for more information, dates, and prices
Check out our video: Crazy 8's